Cool Cities – San Francisco
From the West Coast to the rest of the world: San Francisco is deemed the birthplace of the five-pocket jeans, the most important fashion statement of the past 140 years.
According to the legendary tale, German immigrant Levi Strauss and the tailor Jacob Davis were the first to hammer rivets into the robust trousers they had made for gold miners, in order to make the workwear garment even more durable. The innovative duo would no doubt never have dreamed that, from a fashion point of view, they were making a product for eternity and at the same time a sartorial symbol for the youth of generations to come.
A century and a half later, times have changed, but one thing remains: the innovator attitude in what is probably the most laidback metropolis of America. And this is partly also due to the 'Yes we can!' spirit that prevails here. With their relaxed lifestyle, people here are flexible, open and uncomplicated. San Franciscans enjoy life and everything the city has to offer. Picnics in the park, sport in the fresh air, good healthy food and excellent wine, beach life and big surf, as well as the vibrant nightlife.
So you can probably guess: Northern Californians are not so big on high fashion or lengthy grooming and styling. After all, who would want to totter up and down the steep hills in high heels or be taken by surprise wearing something skimpy when the temperature unexpectedly plummets? In reality, a pretty substantial proportion of San Francisco's inhabitants seem to spend most of the day in running gear. Whether or not they are all sports freaks or simply like to create that impression is irrelevant.
Despite the rather pragmatic dress code, the streetscape is anything but. As the USA's gay-lesbian Eldorado, San Francisco is home to a colourful, vibrant bunch. Add to that the hippie vibe and festival atmosphere in the parks – best seen in the Mission Dolores Park on a sunny weekend – and the D.I.Y. movement that is way more active here than in Europe: self-confident and uninhibited, giving perfectionism the cold shoulder, a new generation of San Franciscan designers are beavering away with refreshing results. Compared to London or Paris, the atmosphere of the city could be likened to a Waldorf School, full of happy, free and optimistic young people. But despite this, tradition also plays an important role: not just because Levi's, the mother of all denim brands, has its headquarters in the city. The entire city breathes denim, and the density of the top-notch indigo fabric is just as high as the hills overlooking the bay.
The greatest inspiration and best overview of fashion and culinary trends on the street can be experienced on a wander along Valencia Street. This is where visitors can find everything that makes San Francisco so desirable: small pretty boutiques, health food restaurants, vintage furniture stores, coffee shops and thrift stores. And thanks to the length of the increasingly popular shopping mile, there is plenty of space for new ideas to develop. Another place undergoing major changes is the Sunset District, where the most exciting new retail and gastro additions are sprouting up out of the ground at the moment. Somewhat more established but equally worth a visit are North Beach, the Italian district at the foot of Telegraph Hill, Hayes Valley, a dream for shopaholics and Fillmore Street in Pacific Heights.
We roamed the streets of the hottest districts, interviewed the coolest people, and of course took photos of the trendiest street styles, capturing the essence of San Francisco to make sure you're well informed for your next trip.
Selected texts from the City Guide
Reliquary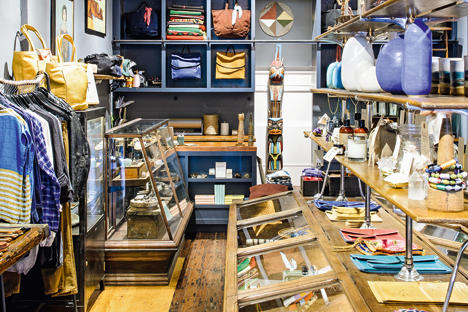 Escaping the frustrations of a design job at GAP gave her the last kick she needed to take the plunge into self-employment. Leah Bershad already had a passion for reliquaries from her early childhood – or put another way, basically anything cultish, surreal and weird. She never knew quite how much this passion would be appreciated by San Francisco's fashion fans until several of her carefully selected pieces of jewellery started selling like hot cakes. As well as unusual rings, necklaces and bracelets and some décor pieces, Leah also stocks precious textiles. The shop owner studied at the famous New York Parsons The New School for Design and it certainly shows. Some of the selections are bought in from labels like Levi's Vintage, Raleigh Denim, Ace & Jig and S.N.S. Herning. And some she picks up at flea markets and vintage shops on her countless travels. When she travels she likes to hit the lesser-trodden paths. Not Paris, London and New York, but Africa, India and Asia. The fact that her shop, with its grey-blue whitewashed walls, has a harmonious museum-like feel to it is also down to Leah's good taste. Everything at Reliquary, down to the last little detail, is of her making.
Mollusk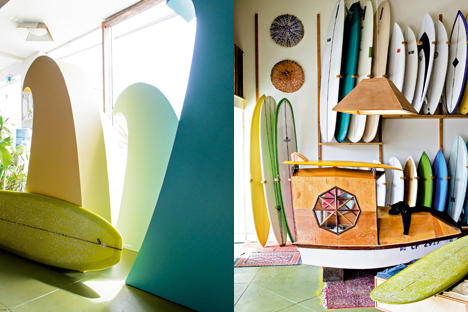 If you take the M Train towards Outer Sunset, the district that is bordered to the north by the Golden Gate Park and ends in the west at Ocean Beach, you'll make an interesting discovery: despite its great location and the corresponding quality of life here, there aren't endless rows of expensive villas. Instead, Sunset has more the character of a seasoned working-class district. The reason? The infamous fog is a frequent guest, which is why the prices here are still affordable. And ideal for a small alternative community and their unconventional business ideas. Like those of the boys from Mollusk, the city's coolest surf store. John McCambridge and Johann St. Cloid (?) recognised the area's economic potential and started to offer boards, shorts and shirts here back in 2005. Patagonia, Norse Projects, A.P.C. and their own label Mollusk are the backbone of the portfolio, rounded off by windbreakers, bikinis, sweats, hoodies and wetsuits. And because they are a pretty interdisciplinary bunch, you can also buy surfer movies and books on the topic here. The eye-catching interior objects are by Jay Nelson, the locally revered shop fitter who was responsible for the beautification of the new Voyager shop on Valencia Street.
General Store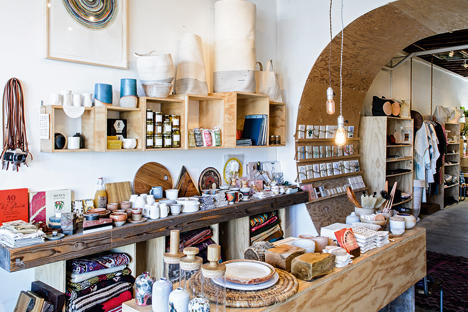 The sleepy Outer Sunset neighbourhood, which has the feel of a small cosy holiday town, is home to General Store. It's only a few hundred yards down the road from the shop front to the Pacific Ocean. This is the part of town the surfer community calls home but according to the artists Serena Mitnik-Miller and her partner, the architect, skater and surfer Mason St. Peter, what was missing here was a general store. But of course they were thinking more in the direction of vintage styles, ceramics, books, magazines, cards and leather accessories than your average dry goods. Serena collects all of these treasures on her travels through the United States, Mexico, Australia and New Zealand. Particularly worth a mention is the wooden, full-circle archway reminiscent of a halfpipe inside the shop and the cute greenhouse for succulents in the courtyard outside. Both features can be attributed to Mason, who couldn't help but add his two-penneth worth to the store's success – and it's certainly helped: a year ago the General Store opened its second branch, in Venice Beach, Los Angeles.
Fairmont Hotel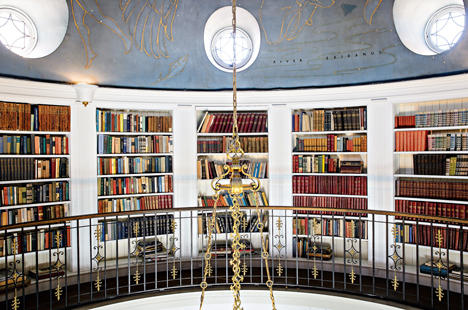 If only these walls could talk! The Fairmont Hotel, high up on Nob Hill, is a true institution with a long and colourful past. Since it opened in 1907, the hotel has accommodated royals, rock stars, politicians, VIPs, actors and millionaires. It started off with the US president (including John F. Kennedy who is said to have had his trysts with Marilyn Monroe here) as well as the Stones, Al Pacino, Elton John and Jean Paul Gaultier – who have all wandered through the opulently decorated lobby, which, after undergoing refurbishments, is exactly as it was when it opened in 1907. In 1960 the tower opened – an annex with xx storeys, its north-facing rooms affording a fantastic view of the entire Bay area. The hotel has xxx beds, several large function rooms (in which jazz and Motown greats like the Supremes, James Brown, Nat King Cole and Ella Fitzgerald have performed) decorated with hand-painted frescoes and crystal chandeliers, a spa, various shops, a European-style café and two restaurants. And those are two of the finest the city has to offer: next to the lobby is 'Laurel Court' where breakfast is also served, and the legendary 'Tonga Room' and its 'Hurricane Bar'. The combination of Hawaiian Tiki-bar and Asian restaurant not only attracts many guests because of its exotic food: every hour on the hour there is a simulated tropical hurricane show complete with thunder, lightning and a downpour. An experience best enjoyed with a fortifying Mai Tai in hand at the bar.
San Francisco Talks
Tellason
Authentic, true and original are three words we've all heard a hundred times by now, especially in the denim business. So it's all the more refreshing when you meet someone in the industry who knows how to take the hackneyed buzzwords and really fill them with life. Like Tony Patella and Pete Searson for example – together they are the brains behind Tellason.If you take the ferry from San Francisco past Alcatraz, you end up in Sausalito, a small town of perhaps 8000 inhabitants directly on the bay, which gives off more of a holiday town vibe than being a suitable location for a 'serious' business. This is where the founders of Tellason have rented a space in an industrial loft, with artists, designers and other creative minds as their neighbours. At the beginning of their careers as label bosses they only had one single jeans fit on offer. "We have a long-term mentality," says Tony. And Pete: "We're just doing things that make sense to us." The two dogs gambolling around us bark in agreement.
Pete, Tony, to found an entire business centred on just one single jeans fit – how do you come up with an idea like that?
Tony Patella: I've known Pete since around 1990. We've both been in the clothing business for many years now; around a quarter of a century. I've been involved with quite a number of denim brands, and Pete worked in sales. So it just kind of made sense to put our combined expertise into one basket: 100 days later we were holding our first prototype in our hands. One fit, one fabric: that was the concept we stuck to for the first two years.
Pete Searson: The timing was good for our plan. In 2008 after the banking crisis the economy was on its knees. Which also meant that people were forced to watch the pennies and really think about what they spent their money on. And when in doubt, it wasn't going to be the umpteenth cheap fashion item with last week's sell-by date that they invested in. The retailers knew that too.
TP: We showed our jeans to five selected stores in Northern California and sold 120 on the spot. And then word got around.
What were people saying?
PS: The fact that we were offering a product that was not only timeless in terms of fit, style and details, but also in terms of its high quality and long-lasting material. Raw selvedge denim, woven in the Cone Denim White Oak Mill in Greensboro, North Carolina. That's the same textile mill that made denim for Levi's for a good hundred years.
TP: The machines they use there date back to the twenties, thirties and forties – looms like the American Draper X3, made of leather, steel and wood. The factory floor is also timber, so that from the vibrations from the looms alone, small irregularities are produced in the cloth. Of course, we could get denim elsewhere, but it wouldn't have that kind of quality or history.
And not only can you claim the 'Made in USA' title because the denim comes from North Carolina, but also because your jeans are produced in San Francisco.
TP: Yes, that's right. We know the people who make the jeans for us personally. In times when there are only a few people who haven't outsourced their production abroad because of profitability, we felt we wanted to set a precedent. In the fifties 95% of the USA's clothing was made in this country. San Francisco was the cradle of the blue jeans. This heritage deserves to be preserved – even if just for the people who work in the business. For the sake of their livelihood – and with a view to preserving the skills that would otherwise not survive.
Just to come back to the beginnings with your one-fit concept. How did it come about that you started expanding after all – to currently five fits for men and one for women?
TP: Until now we always simply reacted to concrete demand, to positive or negative feedback. So our Straight Leg Fit for example is the result of a cooperation with Michael Williams, the writer of the very popular menswear blog over here called 'A Continuous Lean'. Our Slim Fit simply didn't fit Michael very well. So we had to go back to the drawing board. What we do isn't exactly revolutionary but always focused.
PS: One of the great advantages for our customers is that we aren't fixed to the fashion seasons. That means it's no problem for them if they want to reorder. We can deliver what's needed quickly – in the right sizes and exactly the material they know and love. Nowadays you can't take that kind of service for granted.
TP: We make quality classics – that is something that suits the times perfectly. And which you can see in the success of brands like Red Wing and Filson. I always liked the less-is-more philosophy anyway, especially as someone who has experienced at first hand the Silicon Valley bubble of the past years here. My favourite outfit doesn't differ much from the one my dad wore back in the fifties: black T-shirt, Red Wing boots, raw denim jeans.
PS: Denim is the best example of a product that gets better with age, which simply makes it the ideal outfit for every day. We also offer a repair service, by the way. Genuine customer service doesn't get the attention it deserves these days.
Speaking of which, how many customers do you have currently?
TP: In the USA around 50 retail stores, in Italy around 25, in German-speaking countries and Benelux around 70 and in Japan over 100. Japan is actually our largest market. The Japanese really value the American denim heritage and tradition, especially when the words are backed up with actions.
Any plans for the coming seasons?
TP: Yes, we will finally launch a sweatshirt, which we've been working on for quite a while now. As well as that we'd like to have some of our shirts and trousers made in a small weaving mill in north-eastern Italy, in addition to our current offer. The plan is to really have something special to show at the Bread & Butter and the Pitti Uomo in January.
We look forward to seeing it! Thanks for talking to us.
San Francisco Talks
The Thing Quarterly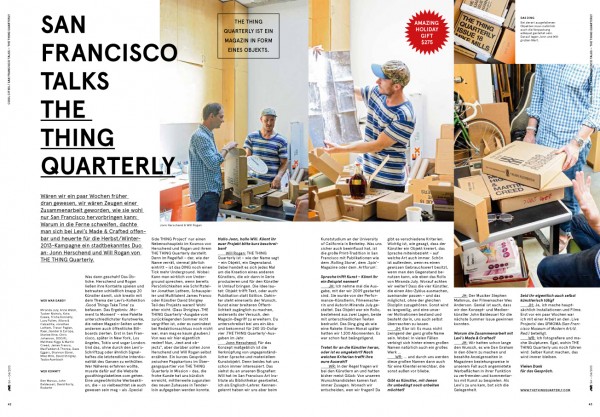 If we had been a few weeks earlier we would have been witness to a collaboration that could likely only happen in San Francisco: 'Why go further afield?' thought the team at Levi's Made & Crafted, and hired Jonn Herschend and Will Rogan of THE THING Quarterly, a well-known duo in town, for their autumn/winter 2013 campaign.
And what happened then? The usual. Herschend and Rogan activated their contacts and inspired 20 artists to get involved and creative with the topic of the Levi's collection 'Good Things Take Time'. The result: 'Moment to Moment' a range of highly diverse artworks that could be found adorning magazine pages as well as plastered onto public billboards all over town. First in San Francisco, later in New York, Los Angeles, Tokyo and even London. And all without Levi's signature or any other telltale sign to give away the intention of the whole thing. Those who wanted to find out more had to go to the website goodthingstaketime.com.
A highly unusual advertising campaign, which – although it attracted plenty of attention – was a 'Special Side THING Project', just a sideline in the cosmos of Herschend and Rogan and their THE THING Quarterly. Because usually, the THING is a little bit more underground. Although, can one really talk about underground when personalities like writer Jonathan Lethem, actor and multi-talent James Franco and artist David Shrigley were part of the project? Probably not. (The fact that the Shrigley issue of THE THING Quarterly from this summer isn't impossible to get hold of (at least at time of going to press) is hard to believe. What are we actually talking about? Well, "text and objects" but we'll let Jonn Herschend and Will Rogan explain it in their own words. A short conversation amongst removal boxes in the interim headquarters of THE THING Quarterly in Mission – which, we are glad to be able to report, has now been exchanged for their new home in the Tenderloin district.
Hello Jonn, hello Will. Could you give us a brief outline of your project?
Will Rogan: THE THING Quarterly is, as the name suggests, an object, a thing. Each time it is about the creation of a different artist, which we then produce in series and distribute for them. The idea is: object meets text, or: publication instead of edition. Behind it is a desire to make art more accessible to a broader public, as well as the attempt to broaden the concept of a magazine. An annual subscription consists of four issues of THE THING Quarterly and costs 240 US dollars.
Jonn Herschend: The connection between abstract language and material art object is pivotal. Because both have always interested us. You can see that in our biographies: Will worked at the San Francisco Art Institute as a librarian; I was an English teacher. We became friends whilst studying art at the University of California in Berkeley. We were also strongly influenced by the major print tradition there is here in San Francisco with magazines like Rolling Stone, Spin Magazine and Artforum.
Language meets art – can you give me an example?
JH: Take our launch issue in 2009. It was designed by the performance artist, filmmaker and author Miranda July. The object was a window blind, consisting of two layers, printed with different text. People went crazy for it. A month later we had 1200 subscribers. It was almost daunting.
Do you approach the artists, or is it the other way round? How do you select them?
WR: Normally we ask the artists, and until now we have almost always been lucky: our favourite candidates almost always agree. We have different criteria when it comes to picking out who we ask. What's important is that the artist creates an object that incorporates language in some way. Another benefit is when the object is also somehow useful, just like the blind by Miranda July. What else do we look at? That the four artists who complete a subscription cycle in some way fit with one another – and without sharing a common discipline if possible. Otherwise it becomes boring, and our motivation is and has always been to surprise even ourselves.
JH: But one thing is for sure: it doesn't have to be a really big name. Although, in many cases if the name is big of course the work behind it is likely pretty big too.
WR: … and through us the big name becomes accessible to a clientele that could otherwise not afford it.
Is there an artist you really want to work with in the future?
JH: The musician Stephen Malkmus and the filmmaker Wes Anderson. We are really excited that we could get the concept and media artist John Baldessari on board for next summer's issue.
Why the collaboration with Levi's Made & Crafted?
JH: We had always wanted to do something like Dan Graham in the sixties and free up paid-for advertising pages in magazines, and, in our case, also rent billboards and display art on them without any commentary. When Levi's approached us we grabbed the chance.
Do you create art yourselves too?
JH: Yes, I mainly do installations and films. A couple of weeks ago I took part in the 'Live Projects' at the SFMOMA with a piece of work.
WR: I am a photographer and make sculptures. Wherever THE THING Quarterly may take us: making art ourselves will remain a constant.
Thanks for talking to us.
J'N'C Magazine
Issue 04/2013